Jerry Mander: Globalization
Jerry Mander is Distinguished Fellow, and Director of the Asia-Pacific Program [at the International Forum on Globalization. As IFG's Founder and Former Director, Mander] led IFG through its first 14 years and currently serves as Distinguished Fellow for Long Range and Strategic Planning. In the 1960s, Mander was president of a major San Francisco advertising company before turning his talents to environmental campaigns that kept dams out of the Grand Canyon, established Redwood National Park, and stopped production of the Supersonic Transport.
His books include, his latest, The Capitalism Papers, as well as the best sellers, Four Arguments for the Elimination of Television and In the Absence of the Sacred, others include, The Case Against the Global Economy And For a Turn Toward the Local, co-edited with Edward Goldsmith, Alternatives to Economic Globalization: A Better World is Possible, and, Paradigm Wars: Indigenous Peoples' Resistance to Globalization.
NY Times environmental writer Andrew Revkin called Mander "The patriarch of the anti-globalization movement," and Resurgence Magazine (UK) called Mander "One of the 100 leading visionaries of the 20th Century."
See, Jerry Mander, International Forum on Globalization.
(Emphasis and minor formatting added)
Also see, Jerry Mander, Wikipedia.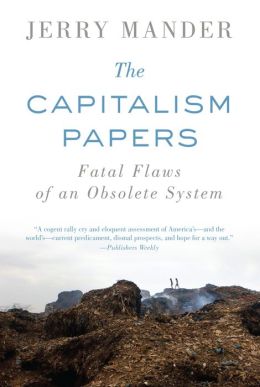 In the vein of his bestseller, Four Arguments for the Elimination of Television, nationally recognized social critic Jerry Mander researches, discusses, and exposes the momentous and unsolvable environmental and social problems of capitalism.
Mander argues that capitalism is no longer a viable system: "What may have worked in 1900 is calamitous in 2010." Capitalism, utterly dependent on never-ending economic growth, is an impossible absurdity on a finite planet with limited resources. Climate change, together with global food, water, and resource shortages, is only the start.
Mander draws attention to capitalism's obsessive need to dominate and undermine democracy, as well as to diminish social and economic equity. Designed to operate free of morality, the system promotes permanent war as a key economic strategy. Worst of all, the problems of capitalism are intrinsic to the form. Many organizations are already anticipating the breakdown of the system and are working to define new hierarchies of democratic values that respect the carrying capacities of the planet.
See, Jerry Mander, The Capitalism Papers, Counterpoint Press 2013.